Hinton Movies is a non-profit organization that was initiated by the Hinton Rotary Club in 2017, to help bring the "movie theater experience" back to Hinton.  Since its inception, Hinton Movies has been helped through sponsorship by community business leaders like Assante Wealth Management, TELUS, TECK and the Voice to name a few.  Along with our audience, sponsorship helps keep entertainment coming to Hinton.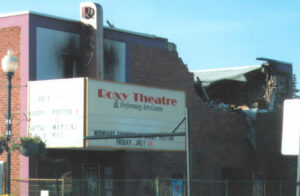 In July 2009, the Roxy Theater and Performing Arts Centre was destroyed by fire which left our community without a place to experience entertainment in its many forms.  Hollywood movies, live theater productions, dance recitals and concerts all had to find a new home.   For movie lovers in Hinton, watching newly released Hollywood movies became a travelling experience.   The only viewing options were in Edson, Jasper or Edmonton.  There was a service gap in our community.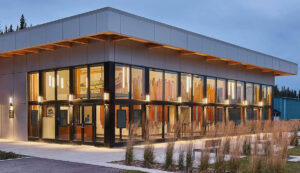 In 2016, renovations started on the Guild to convert it into a Performing Arts Theater of Hinton (PATH).  In 2017, the building was renamed the West Fraser Guild in honor of one of the community's major financial contributors.  Located at 821 Switzer Drive, this facility is now home to many community groups.  It is a major hub for entertainment in Hinton.  Check out the PATH website for all events.

"Hinton Movies mission is to show "first run movies and other projected content that entertains Hinton and area audiences."

The Rotary Movie Presentation Society (Hinton Movies) opened with its first weekend of Hollywood movies on October 13th, 2017.  Audiences were treated to Home Again with Reese Witherspoon and the animated feature, The Lego Ninjago Movie and as an added bonus, theater buttered popcorn!  Since opening Hinton Movies has put on almost 600 shows and entertained over 30,000 people.  
January 2022, Hinton Movies is back at the PATH, showing movies on Friday, Saturday & Sunday's.  
"After being closed for 22 months due to the pandemic, we're looking forward to filling the theater again with life and laughter," says Ann Stewart, Manager of Hinton Movies.
WE'LL SEE YOU AT THE MOVIES!
How can we work with your business?
Buy a 10 pack of adult movie passes for $100 to provide to customers or staff.

Become a "Friend of Hinton Movies", various sponsorship options 
Creative joint marketing, let's discuss your idea.  Eg.  Dinner and movie packaging, sponsored events with movie, etc.
For further information:  Ann Stewart, Hinton Movies Manager, at 780-817-6340 manager@hintonmovies.com  542 Carmichael Lane, Hinton AB T7V 1S8  
Initiated by Rotary Club of Hinton.
Prime Sponsor:  Hinton Wealth Management of Assante Financial Management Ltd. & ASCEND LLP.